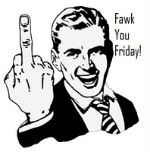 (she is pee your pants funny)
This week my big FAWK YOU's go to....
The construction men who are building a house behind mine. They think it's okay to work from 6 am until 9 or 9:30 pm.
Back to school shopping - why the hell is everything so expensive????
College Textbook - $200 for a book...really??? But I will pay it because I have no other choice.
Ants - yes those pesky little things that travel in hundreds. They have infested my kitchen and no matter what I do they survive.
So people there is my Fawk You's for this week, let me know what has been pissing you off.