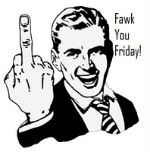 I am linking up with Boobies, Babies, & A Blog for Fawk You Friday. If you haven't checked out this blog you should click the link immediately http://www.boobiesbabiesandablog.com/

Alright so this is my first time with Fawk You Friday so here it goes....

Fawk You Summer vacation...my kids need a break from me as much as I need a break from them...

Fawk You "free" summer activities for kids...you end up costing me more than if I was to just pay for the damn activity.

Fawk You Mother Nature you keep teasing us with summer and then taking it right back away. I want a full day of sun NOW!!!

Fawk You well no Fawk Me because my house is NEVER clean and I am sick and tired of cleaning it.

Tell me how was your week?????