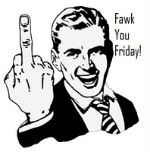 It seems that the only posts I can manage lately are the Fawk You Friday...so here it goes.
Check out Christy over at http://www.boobiesbabiesandablog.com/ she is great!!!

Fawk You Friday

1. Fawk You to the Dad's out there that have no guilt going and doing something that doesn't involve the kids. I sadly am not like that, I feel guilty if I don't take them with me while doing something fun.

2. Fawk You heat... I know I was begging for summer but dang this 110 degree heat index is a bit much...wonder if its that global warming everyone was talking about?

3. Fawk You childhood immunizations I had to take my baby (well she is 4) to the doctor for a check-up and they gave her 5 shots! Well without a doubt we had D-R-A-M-A she kicked, screamed, and the tears were flowing. After that we got to deal with fever, sore legs, and more D-R-A-M-A.

and finally...

4. Fawk You to the oral surgeon who is removing my oldest daughters wisdom teeth. Really 2 grand for you to take out 4 teeth. And this is on top of the 5 grand we already spent on braces. Her mouth is worth more than a nice used car at this point. However, we will pay for it with a smile because I love my daughter and her smile is priceless to me. But I may come home and cry afterward thinking of all the purses I could have bought for 2 GRAND!!!

Hope you have a great week.