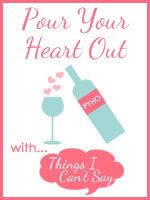 I have never been great at "scheduling" time for myself, however, since becoming a mother I NEVER have time for myself. How about you? Do you schedule time for just you, whether going to the gym, reading a good book, or just relaxing with a drink? And how often?

It seems for most moms that I know once we have a child/ren anything and everything about us no longer matters or requires/get any attention at all. It suddenly becomes all about everyone (and I mean everyone) elses needs/requirements.

I am curious about this. How does someone like me go from being a self absorbed, spoiled brat (yes I admit this was me in my youth)...to this person I have become. I have become your "typical" mom. I will do pretty much whatever my kids want whenever they ask for it. (Within reason of course). I do all of the motherly things, and never give a thought to what I want or what I may need. I am not tooting my own horn (mostly, because I am not sure if these are good qualities or not).

But every once in a while I will come upon some self pity that I have buried pretty deep, and it all comes bubbling to the surface. I whine to myself "What about me?" "Don't I matter to anyone?" Well I know the obvious answer to this is yes I do matter to alot of people, but try telling that to me once I have let that pity party start.

I know without a doubt I am loved, and appreciated. But I really think that there should be some way to show every mother out there that we are appreciated for everything we do and give up.

Maybe it starts with all the other moms we know. Let's try it. Next time you see a fellow parent having a hard time or just looking a little lost, try giving them a smile or some nice words letting them know that you too have had "those" days, and they are not alone. I know from experience that it does help when you know others are feeling the same way you are. Parenting can sometimes feel very isolated and lonely, and it shouldn't have to. So just make someones day a little brighter and give a smile. I sure know there are quite a few days where a smile goes a long, long way!